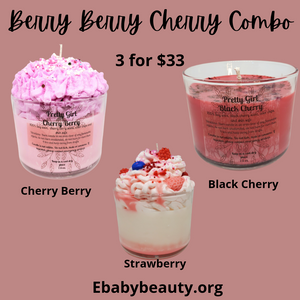 Berry Berry Cherry Combo 8 oz
Sale price Price $33.00 Regular price Unit price / per
Anybody loves berries and cherries? Well this candle combo is just for you! This combo contains Cherry berry 🍒🍓 Strawberry 🍓 and Black Cherry 🍒 candles. Each candle is highly scented, hand crafted and will have you wanting to taste it..... BUT DON'T😋!!! All are safe to use on your skin. You may use as a massage oil or skin moisturizer. (ALLOW TO COOL BEFORE USE) 
100% soy wax and has no harsh chemicals.
*These candles are not edible, can not be tasted, licked or consumed. If accidently consumed you are to contact emergency services.* 
Directions: Light candle and place in an area free from flammable objects. Do not use in an area with drafts, do not leave unattended, do not burn for more than 4 hours at a time.