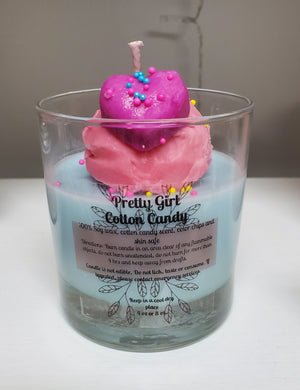 Cotton Candy Candle 8 oz
Sale price Price $13.00 Regular price Unit price / per
Does anyone like the county fair? This sweet treat will give you the feel of the sticky icky feel of cotton candy. This delectable treat is Cotton Candy scented. Each one is hand crafted, designed and poured. This candle is 100% soy wax and has no harsh chemicals.
                              *********Color of candle may vary.**********
*This candle is not edible, can not be tasted, licked or consumed. If accidently consumed you are to contact emergency services.* 
Directions: Light candle and place in an area free from flammable objects. Do not use in an area with drafts, do not leave unattended, do not burn for more than 4 hours at a time.